With more than 400 deaths and 3000 hospitalisations attributable to the bushfire smoke that shrouded Australia's eastern States last summer, could a coinciding COVID-19 pandemic create a perfect storm?
Australian Public Safety experts are understandably worried as US Firefighters warn COVID-19 is making the bushfire response "exponentially harder". The News reports Californians are forced to choose between virus safety and fire safety.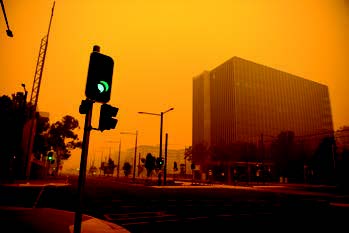 We instinctively know that even a single outbreak will raise hospital admissions and increase presentations of undiagnosed respiratory distress. In turn placing additional demands on hospital air quality and risk management.
So as the COVID-crisis rolls on and bushfire season looms, many facility managers are proactively rethinking their air quality risk management plan (ARPM)
They are now considering how air quality and air tightness in their hospital can jointly protect patients and front-line staff from the dangers of bushfire smoke and infection.
COVID-19, BUSHFIRES & HEALTH PROTECTION
From the Pandemic, it is emerging, that front line staff
are under threat of nosocomial infection from poorly functioning air control measures and sub-optimal air pathways. The number of corona-virus infected healthcare workers in Victoria has now surpassed 1000 and continues to rise daily.
The Chief Medical Officer, Professor Andrew Wilson's investigation into Victorian hospital virus transmission has certainly provided insight into the risks of cohorting patients and infection control measures.
However, until we understand the full picture, it is important we act to ensure facility standards are being met across
every parameter of air quality. Air tightness, CSSD, theatres, isolation rooms/wards, air discharge points and positively pressured staff areas in the hospital are key areas of risk.
ASHRAE 170, for example, requires that an isolation area be routinely tested with smoke trials to test for leaks, ensure the correct pressure, isolate infection and isolate fumigating disinfectant. Unfortunately, this is only currently implemented in a number of facilities.
The potentiating calamity of a bad bushfire season will further increase our reliance on a hospital's air tightness and air management practices. To avoid disruption, damage and the forced closure of hospital services experienced last year, necessary remediation and ARMPs need to be undertaken pre-emptively.
While the unfavourable consequences of The Canberra Hospital's extremely high levels of indoor smoke particulate, is a strong lesson in being prepared.
DOES THE AGE OF A HEALTHCARE FACILITY IMPACT THE REQUIREMENT FOR A NEW ARMP?
In theory, newly constructed hospitals benefit from pre-occupancy tests which validate some of the best designed ventilation and filtration systems in Australia.
In practice, however, many hospitals, both old and new, have air systems that, when independently tested, are found to be working sub-optimally.
Testing has shown air permeability can change even over a short time frame. A meta-analysis applauded at the AIVC Conference in 2017, highlighted the decreasing durability of building air tightness. Air Tightness durability decreased most in the first 3 years post construction due to structural movements, shrinkage, drilling of the air barrier with the installation of new equipment, and normal ageing of assembly and products.
Older facilities, according to CETEC, a leading scientific air quality consultancy, will see factors such as the loading of filters, the wear and tear of the door, wall and floor seals affecting pressure balance during its operational lifespan.
This is why we are seeing percipient hospitals, irrespective of age and reviewing their ARMPs before a crisis erupts.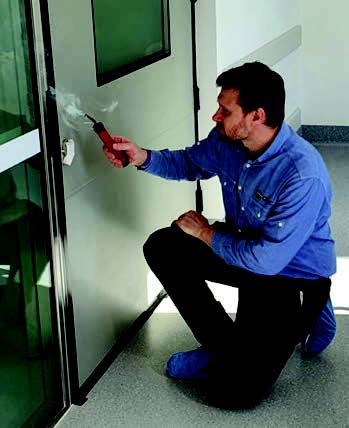 PRIORITIES FOR HIGH-PERFORMANCE HOSPITAL
It has been an incredibly challenging year for healthcare with our eyes trained on one crisis after the next. But with the help of Chemical, Microbiology and Engineering Consultants at companies like CETEC, we can implement ARMPs in readiness for a pandemic-bushfire season.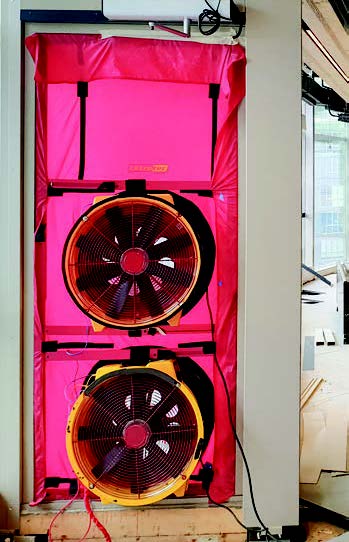 CETEC, ATTMA-accredited consultants Adam Garnys and Josiah Padget advise the following actions for Hospital Engineers:
Identify pollutant sources for the hospital.
Conduct HVAC hygiene inspections, mould swabbing, and review filtration specification.
Air Tightness Testing to understand building and zone envelope leakage.
Review Type 5 isolation rooms for conformance to HB260 and AS2243.3
Evaluate the ventilation and pressure relationship between COVID areas and adjacent wards.
Develop a hospital-wide Air Quality Risk Management Plan. Whilst we consider the compound risk of COVID and bushfires on air quality, its important to be on the front foot. Reviewing the ARMP and investing in good risk management expertise will help set our hospitals up for a resilient summer.
Whilst we consider the compound risk of COVID and bushfires on air quality, its important to be on the front foot. Reviewing the ARMP and investing in good risk management expertise will help set our hospitals up for a resilient summer.